Future of Fertility: innovations transforming the fertility landscape
Get up to speed on latest trends and hottest startups in the fertility market
Environmental and lifestyle changes mean more of us are experiencing fertility issues, but not everyone can access treatment. Fortunately, a crop of exciting new startups, forward-thinking clinics, and pioneering researchers, are starting to bring about change.
Rising infertility rates are quickly becoming a global problem and the success rates of existing Assisted Reproductive Technology (ART) are reaching a plateau. It's a gloomy prognosis but, fortunately, it only tells half the story. Octopus Ventures is the UK's most active health investor; we believe that if you want to build a better tomorrow – you have to invest in it. Over the last 18 months, we've taken a forensic look at the fertility sector to highlight the incredible work being done by startups around the world. Read on to learn how emerging stars in the fertility space are busting taboos, improving access, and developing technology that stands to reshape treatment. The conversation starts here.
1 in 7 couples has difficulty conceiving
Infertility is a huge problem that continues to grow while the success rate of existing ART are reaching a plateau.
Treatment can feel like an expensive gamble with no knowledge of the odds
Fertility treatments are difficult to access and hugely expensive, but a lack of personalisation also means it's difficult to know your chance of success.
The stigma around infertility means it remains a 'taboo' topic
The longstanding taboo around infertility is preventing important conversations from taking place and often stops people seeking help.
"The fertility landscape is undergoing a rapid transformation. Over the next decade, we can expect to see very positive changes in terms of the effectiveness and cost of treatment, how we pay for it, and the way we talk about it."
Will Gibbs, Health Investor at Octopus Ventures
Adoption of fertility tech
Current ART procedures such as IVF are often 'last resort' solutions with plateauing success rates. Advances in automation, data science, microfluidics and omics technology can help improve efficacy and access.
How to improve access
Fertility treatments are expensive and difficult to access, but new business models are helping to solve this problem.
Tackling the taboo
Not enough people are talking about fertility, and even fewer are seeking help. Some bold founders and brands are breaking the taboo, encouraging early conversations and interventions.
What we want to achieve with this report
Celebrate the role of startups in solving these problems
Entrepreneurs have long thrived on solving global, daunting problems, as we're seeing yet again in the fertility market. It's only right that we recognise and celebrate this.
Encourage more diverse and impactful investment into the sector
Investment into fertility related startups continues to grow at pace, but it still lags behind other areas of health. We think there is a huge opportunity to accelerate that.
Get people talking
One of the biggest barriers to the sector's growth is the taboo surrounding the subject of fertility. Our hope is that this report will help to start conversations and erode some of that stigma.
With thanks to the following people for their contributions:
Dr Stuart Lavery
Director at Aria Fertility and Divisional Director of Women's Health UCLH
Dr Stephanie Kuku
Senior Consultant at Hardian Health
Nader Al Salim
CEO and founder of Gaia
Greater technology uptake, better data analytics, and more tech investment stands to drastically improve Assisted Reproductive Technology (ART) across the wider fertility journey.
Despite significant advances in many areas of reproductive medicine and embryology, we're now seeing the success rates stabilise¹ for some of the most common procedures, such as In-Vitro Fertilisation (IVF), with wide variation across countries and clinics.
The growing demand for more effective and affordable solutions, alongside expectations of a high-quality patient experience, has increased the need for innovative technological solutions, some of which are being developed by startups. While it's ultimately biology that sets the rules, and constrains the ability of technology to solve problems, emergent tools, techniques and data analytics present new opportunities for success.
IVF birth rates have significantly improved but appear to be stabilising – how do we keep improving success rates?
Explore the key issues below
Slow adoption of technology

The fertility sector has not yet fully embraced deep tech advances in robotics, automation, data science and omics technology.
Within IVF, for example, embryology labs have benefited from the increasing understanding of reproductive biology but less so on the engineering, automation and data science fronts. During IVF treatment, embryologists, technicians and nurses rely largely on manual workflows and their own personal assessments, which alone cannot sustain the repeatable, systematic, and reliable workflows needed to meet ART demand.
Although decision-support tools, such as AI-led analyses of embryos or sperm could reduce the time and cost of treatments, further evidence (and funding) of prospective trials is needed to drive technology uptake at scale². Much of the analyses of these cells are morphological, which unveils just a fraction of the biological processes in reproduction. Although pre-implantation genetic testing has been on the rise, the use of wider omics is still in its infancy. Investment should focus on the most pressing research needs to fuel innovation in the sector, in turn improving success rates and access to care³.
The data gap
The fertility space has struggled to assemble, structure and make sense of the vast array of data available across patients, clinicians and research bodies.
Currently data sits in silos across universities, hospitals, GP surgeries and fertility clinics. This is not uncommon in healthcare, but used properly by reproductive endocrinologists, gynaecologists, embryologists and research bodies, the data – which includes blood tests, ultrasounds, partner information, demographics and past diagnostics – could produce personalised and predictive insights across ART, from more precise ovarian stimulation protocols to improved embryo transfer decisions. This data void also limits the progress in discovering and leveraging new biomarkers to further advance clinical research and the development of better fertility treatment drugs.
Investment remains patchy
Venture capital investment into fertility startups is rising fast, but it is still behind other sectors within healthcare. Between 2016 and 2021 (H1) venture capital investment into fertility-related startups totalled $2.6 billion, while investment into telemedicine over the same time period was $7.3 billion⁴.
Of the capital invested, much has been concentrated on hotspots such as fertility tracking, egg-freezing and IVF improvements. Investment in pre-clinical and at-home diagnostics earlier on in the fertility journey is lagging behind. This leads to late clinical interventions in an individual's or couple's fertility journey, which can result in higher out-of-pocket costs and a reduction in the success rate of treatments.
As demand for ART surges and infertility becomes front of mind as a challenge for Millennials and Gen Z, we expect to see more investment channeled into key infertility drivers such as male infertility, tubal disorders, and endometriosis, to ensure adequate preventative measures are taken before embarking on invasive and (currently) expensive procedures.
"The fertility market has been defined by a relative inattention to engineering and process development compared to the advances in the science itself."
Dr David Sable, manager of the Special Situations Life Sciences Fund and former IVF specialist
Innovative startups are already engaging with many of these challenges
Technological advancements, leveraging data at scale, and making care readily accessible at home are all helping to bolster treatment success rates. Explore some of the potential solutions below.
Technological advancements boost efficiency and accuracy
Advances in omics technology, robotics, microfluidics, and machine learning are increasing the efficiency and accuracy of ART procedures.
Each step of the IVF process, from embryo and sperm analysis to fertilisation, is seeing major innovations. Overture Life, for example, is developing metabolomics technology to replace the need for invasive biopsies to assess an embryo's completeness and implantation potential.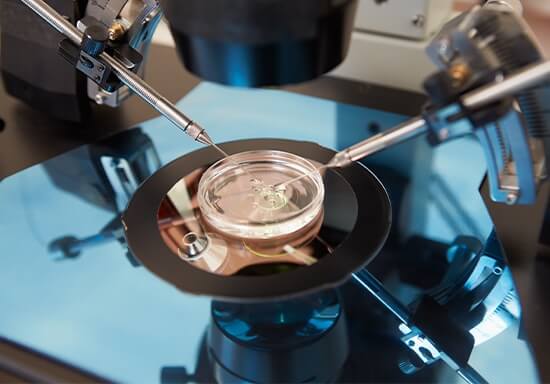 Better data improves the patient experience and the precision of treatments
Data consolidation and analysis has made headway to unveil biomarkers, classify patients more accurately and improve success rates. Companies like eIVF create specific electronic medical records and analytics tools for fertility clinics, leveraging patient biometrics, medical history and partner data to inform treatment and fuel research initiatives.
Other pioneering startups such as Inanna Fertility are tackling the data challenge by creating some of the widest patient data repositories from clinics and research bodies, in turn developing predictive biomarkers.
Access to care at home enables earlier intervention
Better products pave the way for better education, fertility planning and earlier intervention. Impli is creating an implantable, minimally invasive device to measure hormonal levels, replacing the need for repetitive doctor visits.
Selectivity and Bea Fertility are developing at-home devices such as biomimetic microfluidics to improve sperm selection, and cannulas that reach the cervix safely to aid in conception. Positive user feedback and clinical data gathered from these products should help allay the historical fears in investing into medtech.
What's next for technology innovation?
In-vitro gametogenesis: making egg cells from stem cells
Some people don't produce eggs or sperm because of cancer treatment, genetics or other unexplained causes. For them, current fertility treatments are only possible with donor eggs and/or sperm cells. Research focusing on how human stem cells evolve into germ cells, the precursors to sperm and eggs cells, could allow infertile individuals and same-sex couples to have genetically related children⁵.
Exogenic wombs or artificial gestation
The ability to grow a baby outside of the womb could provide women who have either lost, or were born without a uterus, with the chance of having a child. Single men and gay male couples could also become parents without a surrogate. The societal repercussions – as with most advances in fertility tech – are significant and the ethical discussion, for investors as well as innovators, therefore runs alongside the technological advances.
Genetic engineering for disease prevention in embryology
Genetic engineering could prevent certain genetic diseases. Dr Kathy Niakan's team at the Francis Crick Institute was the first to receive permission from the Human Fertilisation and Embryology Authority (HFEA) to use the CRISPR-Cas9 gene editing technique on human embryos, allowing them to understand the characteristics of successful embryos. The ethical and regulatory concerns are many, but these tools represent a leap forward in genetic illness treatment. This could start with preventing monogenic disease from the first cell onwards⁶.
Companies to watch
Overture Life
Overture Life is automating the IVF process, developing medical devices and novel embryo testing methodologies, that will facilitate automation, lower costs and increase throughput for IVF practitioners.
Inanna Fertility
Inanna Fertility has created a clinical decision assistance platform, providing insights for tailored treatment recommendations by leveraging machine learning and a worldwide patient database.
Impli
Impli has developed an implantable, minimally invasive device to measure hormone levels in real-time. The device replaces the need for frequent blood tests and improves the personalisation of ovarian stimulation protocols, amongst other parts of the IVF process.
Bea Fertility
Bea Fertility is creating a new step in the fertility pathway to promote earlier intervention through an at-home intracervical insemination (ICI) to aid with conception for individuals and couples.
TMRW
TMRW has created the world's first and only automated platform for the safe management and care of the frozen eggs and embryos used in IVF, setting new standards for transparency and safety.
ImVitro
ImVitro is using deep learning to detect hidden patterns and predict probabilities of implantation of embryos.
CytoSwim
CytoSwim is developing the next generation of sperm conditioning tools using a proprietary microstructure which gently selects the healthiest sperm cells from a sample.
Get in touch with our Health team to find out more
Octopus Ventures is the most active health investor in the UK, investing across all stages but with a bias towards the earliest stages (Seed and Series A). We are committed to backing pioneers who are transforming the health industry from digital therapeutics through to biotechnology.
The desire to start a family is a powerful biological imperative, but not everyone is given the same chance.
A single cycle of IVF treatment can cost £5-10,000 in the UK or $20-60,000 in the US, with no guarantee of a successful outcome.
Access to state-funded IVF varies wildly, depending where you are in the UK. In England, decisions about who can have NHS-funded IVF are made locally by Clinical Commissioning Groups (CCGs). The provision of IVF treatment varies from zero to three funded IVF cycles, depending on location and different eligibility criteria, often based on age. While NHS Scotland funded 62% of cycles in 2019, this figure fell to 20% in some parts of England¹.
Fertility treatments are also typically not covered by private medical insurance, which results in high and unpredictable out-of-pocket expenses for the one in seven couples who have difficulty conceiving ².
The level of NHS funding for fertility treatment varies across the UK, with 62% of cycles funded by the NHS in Scotland, falling to 20% in some parts of England ³.

One cycle of IVF can cost £5-10k in the UK or $20-60k in the US. With success rates around 30%, couples can pay $60-180k across three cycles, with no guarantee of success.
There is huge disparity of ART access globally. Countries like Belgium and Australia provide 5 times more cycles per million of population per year than the USA ⁴.
Explore the key issues below
Treatments are unaffordable, funding is limited and clinical guidelines are not enforced
According to the UK's National Institute for Clinical Excellence (NICE) guideline "IVF should be offered to women under the age of 43 who have been trying to get pregnant through regular unprotected sex for two years" ⁵. This two year wait is regardless of age and ignores the fact that the likelihood of live birth rates decreases from 29% for those aged under 35 years old, to 3% for women aged 43 to 44 ⁶. Even then, NICE's guidelines are ultimately just guidelines and the CCGs within the NHS are not required to act on them. This means there is relatively limited public funding available.
Treatment is costly and uncertain
For those who choose to fund IVF privately, the lack of personalised data available means they are required to pay for something with very little knowledge of the likelihood of success, something which is almost unheard of elsewhere in healthcare.
This can result in multiple cycles of IVF being undertaken at huge cost, despite very slim chances of a positive outcome. Meanwhile, others with better chances may be put off by the high costs and avoid it altogether.
Low health insurance coverage
Fertility treatments are rarely covered by private medical insurance, despite a clear market need, and progress to shift this position has been limited.
There has been some improvement in the US, where 17 states have passed laws that require insurers to either cover or offer coverage for infertility diagnosis, however, there is still a lot of disparity. While some states have laws requiring insurance companies to provide coverage for IVF as part of their treatments for infertility, others – such as California, Louisiana and New York – have laws that specifically exclude IVF from private health insurance coverage.
With limited national funding, expensive treatments and relatively low probability of successful outcomes, it's not hard to see why insurers choose to exclude fertility treatments from their policies and instead continue to perceive it as "niche and experimental". This is despite the 8 million IVF babies born since the first treatment in 1978.
"Menopause, fertility, pregnancy and parenthood are natural life journeys that can quickly become workplace issues. Organisations need to provide support to their people through these periods in life when their health is most vulnerable."
Dr Mridula Pore, CEO and Co-Founder, Peppy
Pioneering solutions to accessibility and pricing barriers are being developed
Startups are tackling the infertility challenge by developing novel pricing models, launching digital platforms and adopting new distribution channels.
Outcome-based fertility financing
Companies such as US-based Future Family and UK-based Gaia are tackling the affordability challenge in a novel way by providing outcome-based pricing for Assisted Reproductive Technology (ART).
These startups are essentially replacing the role of insurers by providing smart risk pricing for treatments such as IVF. The ultimate cost of IVF does not change for users, but unsuccessful patients pay less, and successful patients pay a little more.
Employer-focused fertility benefit providers
With companies offering an expanded benefits package in a bid to boost employee retention and satisfaction, employers have become an attractive new distribution channel for startups committed to addressing the infertility taboo.
Fertility insurance unicorn Progyny, which has a market cap of $5.7bn, was one of the first startups to offer fertility benefits to employers. Now startups in Europe – such as Carrot, Fertifa, Peppy, and Oviavo – are following Progyny's lead, using employers as a channel to distribute their solutions and platforms.
Digital fertility clinics
On average, a patient is required to go to a fertility clinic nine times during an IVF cycle, according to Caroline Noublanche, the CEO and founder of digital fertility clinic startup, Apricity.
Her team is aiming to improve patient experiences and accessibility by digitising as many of the processes as possible, reducing the need for in-person visits to a clinic.
Future Innovation
The rise of employers as a go-to-market strategy
The pandemic has further accelerated this trend, having underlined the crucial role of employers in supporting employee wellbeing. This is a significant shift, and in the short term represents the most effective lever to improve patient outcomes by dramatically increasing access to treatment. For fertility startups, treatment as part of an employee benefit package also represents a sizeable new distribution channel.
The need for inclusive employer support
More employers are offering fertility support as a benefit, but it is still rare and remains focused on IVF and egg-freezing. While some communities, including many in the LGBTQIA+ community, have fallen back on adoption, financial support for this is limited. More inclusive employer/employee fertility support will not just present a further opportunity for innovation, but also expand the reach of ART, making it more accessible to a wider cross-section of society.
Companies to watch
Future Family
Future Family offers loans for IVF and egg freezing to make it easier to get started quickly with fertility treatment.
Gaia
Gaia combines reproductive health data with financial technology to make IVF treatments more accessible, affordable and personal.
Apricity
Apricity is a fully digital fertility clinic delivering individualised patient care across all stages of the fertility journey, from diagnosis, to egg matching and donation, to early pregnancy monitoring.
Fertifa
Fertifa bridges the privacy gap between employers and employees, debunking taboos around fertility and offering valuable support in the form of employee benefits.
Apryl
Apryl helps companies overcome inequalities, supporting all employees in family planning and helping individuals to thrive in their careers with a comprehensive fertility benefits platform.
Woom
Woom uses machine learning across a fertility app, ovulation tracker and menstrual cycle calendar to allow women to better know their body and optimise their fertility.
Get in touch with our Health team to find out more
Octopus Ventures is the most active health investor in the UK, investing across all stages but with a bias towards the earliest stages (Seed and Series A). We are committed to backing pioneers who are transforming the health industry from digital therapeutics through to biotechnology.
When it comes to fertility issues, people often suffer in silence.
A lack of education and societal pressures prevents important conversations around fertility from taking place.
Outdated ideas about fertility, dating back to an age when people started families younger, proliferate, while misconceptions around fertility and gender are also common. These problems are shrouded in silence, with the stigma surrounding the discussion preventing individuals from seeking help, or delaying intervention and by extension diminishing the efficacy of treatments – or reducing treatment options.
Heteronormative pressures still grip society. Natural conception and the nuclear family remain the norm in the minds of many, and the inability to start a family in this way can feel like a failure. This sense of failure, and an individual's assumption that "there's something wrong" with them, can obscure the truth: that these issues are common, and solutions exist.
Male infertility now represents half the cases treated by assisted reproduction clinics ¹.
The age of parenthood in the UK has risen steadily between 1975 and 2019 – increasing from 26.4 to 30.7 in mothers, and 29.4 to 33.6 in fathers ².
Approximately 90% of men and women going through fertility treatment reported feeling depressed ³.
Explore the key issues below
Sex education needs an update to reset how we think about fertility
A lot of this stigma starts at school. Many received a sex education curriculum taught through the lens of avoidance: how to avoid pregnancies or access abortion, and how to avoid STIs. Young people are hardwired to believe that we are all fertile and that not using contraception will inevitably result in a baby, instead of being educated in the complex realities of conception: that fertility decreases with age, and one in seven couples in the UK will struggle to conceive.
Assisted reproduction only becomes front of mind when it is needed. For the taboo to lift, a realistic and pragmatic conversation about sexual health and fertility needs to start at a younger age and continue into adulthood. In the UK, The British Fertility Society is leading a task force to bring issues, including future fertility, into the national curriculum – which is an encouraging initiative for the next generation.
Discussions about fertility are still highly stigmatised, reducing the opportunity for conversations, education and support
One environment with access to a significant proportion of adults is the workplace. Yet, employees are often reluctant to talk to their managers about the fertility treatments they are having, let alone ask for help. Many worry this conversation could negatively impact their career prospects and fear they might miss a promotion because of the time commitment associated with attending fertility treatments, pregnancy and having a child.
Individuals may also worry that their personal fertility issues will not be taken seriously or that information about their health may be shared with colleagues without their permission or knowledge.
Some communities have been excluded from the conversation
For LGBTQIA+ families the biological options are more restrictive which places more emphasis on the availability and access to "assisted" options. In the US, it costs on average $120k to have a child via surrogacy, highlighting one of the complex challenges LGBTQIA+ individuals or couples may encounter. There are many other options to start a family but, as the debate around fertility evolves at the same time as broader discussions around diversity, we need to ensure solutions are genuinely inclusive.
The Human Fertilisation and Embryology Authority (HFAE) published a report looking at the variation within IVF cycles by ethnicity in order to understand variations in demand, as well as success rates. The results showed that the IVF success rate across groups varied significantly with up to a 30% variation in outcomes in some measures ⁴. This research also seeded many broader questions about the validity of clinical research where the sample populations had historically been lacking in diversity, and how clinicians should manage and address this going forward.
"When we are biologically ready to be parents we are not psychologically ready. Overture wants to bridge human biology and psychology, to help people become parents when they are ready."
Martin Varofsky, founder of Prelude and Overture Life
Bold startups are challenging the status quo
Startups are playing an active role in breaking down fertility and sexual health taboos, triggering a domino effect of societal change.
Disruptive brands tackling taboos and encouraging open conversations
Direct-to-consumer brands, such as Flo, Natural Cycles, Elvie, mojo and Hims & Hers are normalising the discussion of previously taboo topics. It can be extremely difficult to take conversations that typically happen in private and shift them into a more open discussion.
However, in many respects, startups are extremely well placed to do so, as their brands and marketing are naturally designed to be bolder and more disruptive, which is often necessary when trying to challenge a long-standing taboos.
Employee engagement and support
Workplaces are playing an increasing role in encouraging open conversations, for example in the area of improved parent leave policies. But we are now starting to see more difficult issues being acknowledged, with companies like Monzo offering employees additional time off in the event of a miscarriage.
Employers are also enabling employees to engage with trained clinicians. Companies can erode stigma by using external providers, which offer meaningful support around fertility without blurring the personal and professional boundary too far.
New services designed for underserved communities
Startups are building services that promote conversations in underserved communities. LVNDR Health, the digital clinic for the LGBTQIA+ community, is on a mission to change the polarised sexual healthcare landscape, while US-based firm Spora Health is demonstrating that community specific health provision can increase uptake significantly.
IVF success rates vary across different ethnic groups, it will be interesting to see if there is a similar pattern of innovation within fertility.
Menopause and family planning
Menopause occurs when a woman stops having periods and is no longer able to get pregnant naturally (NHS). For more than 80% of women this is accompanied by physical and psychological symptoms.
Typically, the drive to start a family does not coincide with this natural hormonal shift, but it can sometimes occur early with 1% of women in the US experiencing premature menopause. Innovative companies, such as Peppy, are creating ways for women to address menopausal symptoms within employer channels, and research efforts are focusing on ovarian longevity and rejuvenation.
Companies to watch
Mojo
Mojo is a sexual wellbeing platform for men that provides an entirely digital, medication-free, solution to assist in treating issues such as erectile dysfunction (ED), low libido, and performance anxiety.
LVNDR
LVNDR Health is a sexual and reproductive healthcare app designed specifically for the LGBTQIA+ community.
Parla
Parla provides a hub for women covering fertility, mental health and the whole journey to having a baby.
Vira
Vira Health offers intelligent and personalised therapeutics, delivering treatment plans to relieve women experiencing menopause of the worst of their symptoms.
Hertility Health
Hertility Health is on a mission to make information about female health accessible and affordable.
Peppy
Peppy connects people with an expert fertility practitioner through their phone, and provides support for women with menopausal symptoms.
Get in touch with our Health team to find out more
Octopus Ventures is the most active health investor in the UK, investing across all stages but with a bias towards the earliest stages (Seed and Series A). We are committed to backing pioneers who are transforming the health industry from digital therapeutics through to biotechnology.